Maestro Card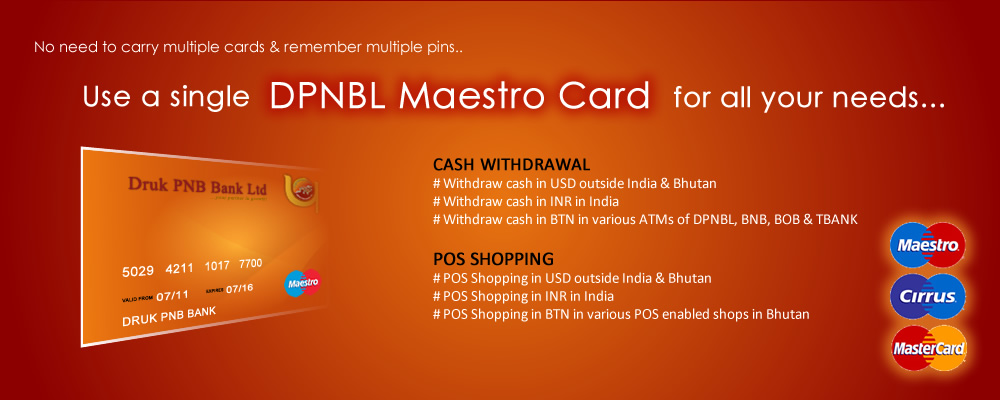 Maestro card Acquiring Facility:
All visiting officials/tourists/dignitaries to Bhutan carrying international Debit/Credit cards issued by any bank worldwide, bearing Master/Maestro/Cirrus logo can now withdraw cash from any of our ATMs in Bhutan.
---
Maestro Card Issuer Facility:
Druk PNB Bank Ltd had launched Maestro Debit Card on 2nd December 2011.
---
Advantages of having Maestro Card are:
Own a Maestro Debit Card and join the elite group of more than 700 million Maestro Card holders worldwide.
With Maestro Debit Card in your pocket, you have access to any of the ATMs worldwide having logo of Master/Maestro/Cirrus.
Pleasure of shopping at more than 13 million shops / restaurants and other outlets including Petrol Pumps in more than 100 countries around the world.
And what more, you are always disciplined, while shopping, after all this is an online debit card.
It allows withdrawals in the currency of the country being visited, and the withdrawers account will be debited instantly in ngultrum's at the selling rate, which is a favorable exchange rate as compared to purchase of currency. For example, a Bhutanese visiting Thailand can withdraw from his account in Thai baht.
---
Fee structure on use of Maestro Card:
Our fee for Cross Border Master Card Issuer Transactions in countries other than India/Bhutan : Nu.150/- per transaction
Our fee for Master Card Issuer transactions happening on ATMs of banks other than PNB in India: Nu.75/- per transaction
Our fee for transactions on ATMs of PNB:India will be recovered as Nu.50/- and Nu.5/- for Balance Inquiry.
Customers will be allowed five (5) successful financial interbank ATM transactions per month free of any charges within Bhutan.
Customer will be charge Nu.12 for every financial interbank ATM transaction after 5th successful transaction.
Interchange fee for Non-Financial transaction will be Nu.8
---
Point to be remembered while using Maestro Debit Card in other countries except India.
Use of card shall be restricted for general travel related expenses or towards misc. purchases during self travel to third country/ies (Other than Bhutan/India).
The card holder travelling to third country/ies can travel without producing necessary documents. The amount on the card shall not exceed USD 1000.00 or equivalent per calendar year and the facility of Annual Travel Quota is not entitled to card holder.
The ATM/Debit card will not be used for making import payments requiring import license/capital transaction.
If users violate any of the above conditions, Bank will be free to disclose user's details to RMA for taking an appropriate action against them. In such an eventuality, Bank will also be free to de-activate user's card with immediate effect without any prior information to them.
Please note that right now we don't have the facility to do online(internet) shopping except withdrawal and POS transaction.
---
W.e.f. 11th May 2012, The charges for issuance of DPNBL Maestro Card will be as under :
At the time of issue of Maestro card : Nu.500/-.
Annual Charges for Maestro card : Nu.500/-
Charges for replacement of Proprietary Card with that of Maestro Card : Nu.500/-
Issue of add on card (per card) : Nu.250/-
Issue of duplicate Maestro Card : Nu.250/-
Issue of duplicate PIN : Nu.25/-
---